Acron Watervista Villas
SOLD OUT
River-view villas in Goa built on highland
With a superb location at Aldona, our recently launched project of paired row houses in Goa, i.e semi-detached villas in Goa, has proved very popular. Acron Watervista will have some design elements of a Portuguese villa or Portuguese house but with very modern architectural features. If you're on the lookout for highland villas for sale in Goa with river view or valley view 3 bedroom villas in north Goa near a river flowing close to the property then this hilltop development is for you. Cruise the nearby Aldona river in a speedboat specially provided for Acron Watervista villas. If you want to invest in  under construction villas in Goa, make one or even a pair of semi-detached homes your residence in Goa and enjoy your own private garden space in this complex that also has a swimming pool and gym. Aldona has become the favourite location in Goa for celebrity home owners in Goa and buyers of Acron's 3 bedroom homes in Goa include well-known media personalities, industrialists and writers.
3 bedroom villas for sale in north  Goa
If you've always dreamed of moving to Goa, a villa in Acron Watervista is the home in Goa for you, built with care by Acron, reputable Goa builder or, as many call us, the best builder in Goa or a leading builder of Goa real estate for last 25 years. Acron Watervista is perfect as your full time residence in Goa or a weekend getaway and holiday home in Goa or even for retirement in Goa. When you're not using your Goa villa, earn good rental income. With its private gardens and upscale amenities, Acron Watervista is the best river-view villa project in Goa, unlike other congested, colony-type highland villa projects. Acron gives you value for money and builds high quality homes in Goa with very good resale value.
Area of villa:

(Range) - The area of each semi-detached villa is 312 sq mt. (3358 sq ft). Plot areas vary from 304 sq. mt. (3272 sq. ft) to 921 sq. mt. (9914 sq. ft) and the private gardens of the villas within the plot vary from 166 sq. mt. (1791 sq. ft) to 783 sq. mt. (8432 sq. ft).

Entire Plot Area:

9098 sq mts = round up to 9000 sq mts.
Highlights
Detached villas with large private gardens
Swimming pool
Air conditioned gymnasium
Each home is individually certified by the Indian Green Building
Council for eco-friendliness
Round the clock security and CCTV surveillance
Hydropneumatic system for water supply
On-line water filtration system
Solar water heating
Piped cooking gas
Full power back-up for common services and amenities
Green Features
Conservation of the maximum number of existing trees on site by transplanting
Larger fenestration to maximize natural light and cross ventilation, reducing the need for artificial lighting in the daytime
Large sunshades that protect the windows from direct sunlight
Extensive use of fly-ash bricks, low VOC paints Insulated roofs
Sound reduction from gensets and ETP to under 40 db
Gypsum plaster directly on masonry thereby obviating an extra coat of rendering, leading to reduction in cement, sand, water usage and enhancing available areas
Rainwater harvesting
Waste management - garbage segregation; vermi composting
Associated Cost:
Sr. No.
Type
Percentage of total purchase consideration
1
Stamp Duty
1 - 50 lacs = 3%
50 lacs - 1 cr = 3.5%
Above 1 cr = 4%
2
Registration
1 - 25 lacs = 1%
25 lacs - 50 lacs = 2%
50 lacs - 1 cr = 3%
Above 1 cr = 4%
Scenic Views at Watervista Villas
The area of each villa is 304 sq mts (3270 sq ft) and the private gardens range in size from 220 sq mts (2400 sq ft) to 520 sq mts(5600 sq ft). Each home has its own falling water feature that has a serene, cooling effect and is part of the green building design. The entire development will be complete in December 2015, however the individual villas can be handed over earlier, within 15 to 20 months of the buyer making the down payment on their home.
Please click on the respective plot to preview the views from each villa.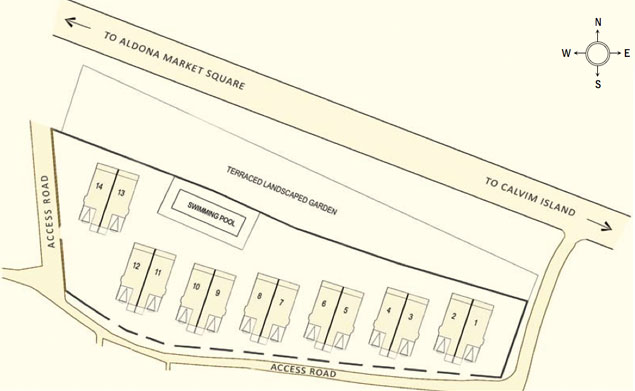 Call us:

+91 99229 07667
+91 85509 87667
Get In Touch